The MXGP of Portugal is off and running today on the red soil of the Agueda circuit. After rain earlier in the week the track was in prime condition for today's racing. From Free Practice to the final laps of the day many lines developed and tested the best rider of the FIM Motocross World Championship. For the second week in a row Red Bull KTM Factory Racing's Jeffrey Herlings and Jorge Prado were the best of the field and will each take pole position in their respective classes tomorrow.
Aside from the MXGP and MX2 competitors qualifying races the 2nd round of both the FIM Women's Motocross World Championship and the European 250 Motocross Championship had their first race of the weekend today.
In the Women's racing Altherm JCR Yamaha's Courtney Duncan lined up to the gate first after having a time practice lap time 2 seconds faster than the reigning champion, MXFONTA RACING Yamaha's Kiara Fontanesi. Duncan proved her speed again in race 1 taking the lead early and never looking back. Behind Duncan was Nancy van de Ven and last week's winner and red plate holder Larissa Papenmeier. In the EMX250 class Honda Redmoto Assomotor's Mathys Boisrame was victorious over Rockstar Energy Husqvarna Racing's Mikkel Haarup who had a strong ride returning from injury.
MXGP's Qualifying racing started with the main contenders of Red Bull KTM Factory Racing's Antonio Cairoli and Jeffrey Herlings 1st and 2nd. Cairoli led Herlings for several laps as the #84 searched for the best lines.
Just behind Cairoli and Herlings was Monster Energy Yamaha Factory MXGP's Romain Febvre and Team HRC's Tim Gajser. Both Febvre and Gajser latched onto the early speed of the two leaders eventually leaving Monster Energy Kawasaki Factory Racing's Clement Desalle to race in a lonely 5th.
Desalle's teammate, Julien Lieber, was the next rider and was first under pressure from Red Bull KTM Factory Racing's Glenn Coldenhoff and later Rockstar Energy Husqvarna Factory Racing's Gautier Paulin. Paulin found his way past Lieber on lap 7 just as Herlings took the lead from Cairoli.
The next lap Lieber crashed and dropped to 16th while Herlings started to pull away from Cairoli and Febvre started to catch the Sicilian. In the remaining laps Lieber only gained back to position to finish 14th but Cairoli put in a charge to catch Herlings.
At the finish line Herlings took the win 1.5 seconds over Cairoli, Febvre, Gajser, and Desalle. Herlings in the press conference said: "The track was really good, one of the best conditions we have had all year. So far here we have been good, we have been fastest in practice and time qualifying then won the race so looking forward to tomorrow and can't wait to go racing."
Last year's Qualifying Race winner and overall podium finisher in Portugal, Honda Redmoto Assomotor's Arminas Jasikonis, finished 10th. Jasikonis in the press conference said: "It was a tough preseason, we still are not there to really race upfront but we are making steps every weekend and we are trying to get better with the bike and myself also."
Wilvo Yamaha Official MXGP's Jeremy Seewer who won the MX2 overall in 2017 finished 7th and said: "I'm trying to learn a lot and just get used to the MXGP class as everyone knows there is just so many good riders in there, with the exception of Tony and Jeffrey all the others are on a similar level and it is tough to battle with them every race."
Portuguese motocross hero Rui Goncalves finished 20th in what was his first race since October 2017. Goncalves in the press conference said: "It has been a long time since I have been racing, my last race was the MXoN last year and since then I have just been riding a little bit during the week. I felt like with a GP in Portugal I could come and race it, be in front of my public and the crowd that has supported me for all these years, so that was the goal of it. Obviously when you go on track things are different, the guys are fast, the rhythm and speed is quite high. I'm enjoying it, every time I got on track I felt better so I'm just looking to have some fun tomorrow."
MXGP Qualifying Race Top Ten: 1. Jeffrey Herlings (NED, KTM), 24:36.707; 2. Antonio Cairoli (ITA, KTM), +0:01.541; 3. Romain Febvre (FRA, Yamaha), +0:04.761; 4. Tim Gajser (SLO, Honda), +0:08.175; 5. Clement Desalle (BEL, Kawasaki), +0:24.822; 6. Gautier Paulin (FRA, Husqvarna), +0:27.661; 7. Jeremy Seewer (SUI, Yamaha), +0:42.055; 8. Evgeny Bobryshev (RUS, Suzuki), +0:52.023; 9. Glenn Coldenhoff (NED, KTM), +0:54.046; 10. Arminas Jasikonis (LTU, Honda), +0:59.735.
Red Bull KTM Factory Racing has been on a roll in both of the MXGP and MX2 classes so far in 2018 and today was no exception. The MX2 Qualifying Race resulted in another race win for the team with Jorge Pradotaking the lead and holding it until the finish.
Aside from the dominant win from Prado other young riders impressed such as Team HRC's Calvin Vlaanderen. Vlaanderen split the Red Bull KTM's of Prado and Pauls Jonass in second the first lap and a half before a mistake from Jonass 2 laps later repositioned the #10 into 2nd.
Jonass remounted his KTM in 5th not only allowing Vlaanderen through but also F&H Kawasaki's Jed Beatonand Rockstar Energy Husqvarna Factory Racing's Thomas Kjer Olsen. Beaton's F&H Teammates, Ruben Fernandez and Adam Sterry also ran up front on the first laps but crashes from both took them well outside the top ten.
6 laps in to the race Olsen passed Beaton for third and then the following lap Vlaanderen for second. Also passing Vlaanderen was Beaton, then Jonass, and later Kemea Yamaha Yamalube Official MX team's Ben Watson. Across the finish first was Prado then Olsen, Beaton, Jonass, and Watson.
Jorge Prado in the press conference said: "This weekend started pretty good, the same as last weekend. I'm happy, I got a good start, made a gap, and kept it to the end so I'm really happy with the race."
MX2 Qualifying Race Top Ten: 1. Jorge Prado (ESP, KTM), 24:47.557; 2. Thomas Kjer Olsen (DEN, Husqvarna), +0:03.169; 3. Jed Beaton (AUS, Kawasaki), +0:05.141; 4. Pauls Jonass (LAT, KTM), +0:08.010; 5. Ben Watson (GBR, Yamaha), +0:08.830; 6. Calvin Vlaanderen (RSA, Honda), +0:19.790; 7. Michele Cervellin (ITA, Honda), +0:37.611; 8. Brent Van doninck (BEL, Husqvarna), +0:38.032; 9. Alvin Östlund (SWE, Yamaha), +0:38.053; 10. Vsevolod Brylyakov (RUS, Yamaha), +0:39.582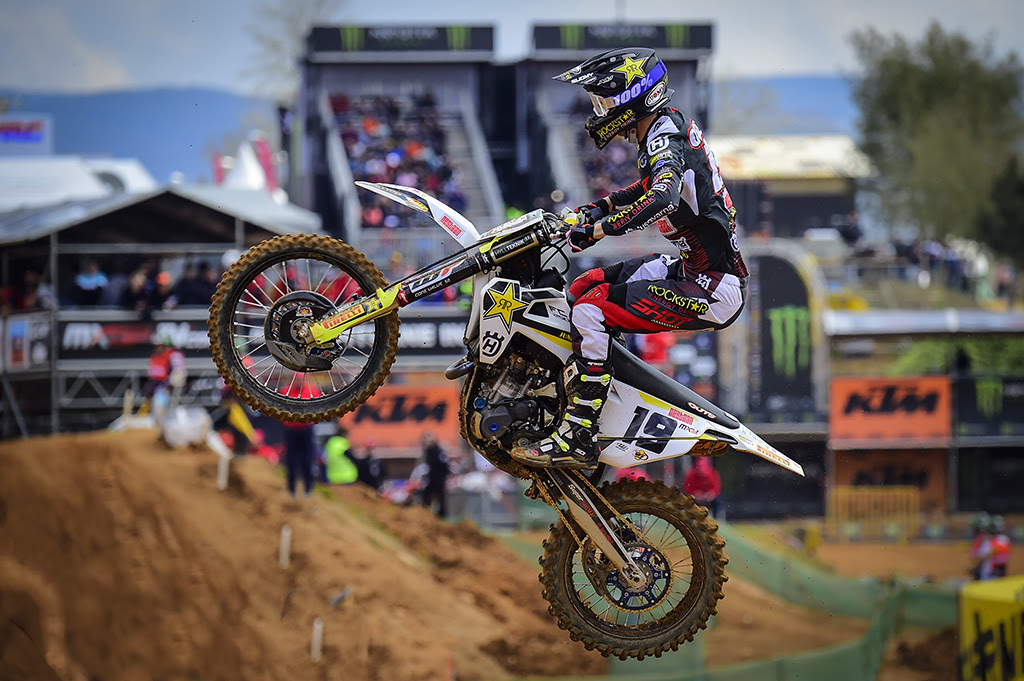 Click here to obtain the complete results
TIMETABLE
Sunday: WMX Race 2 09:45; MX2 Warm up 10:25; MXGP Warm up 10:45; EMX250 Race 2 11:30; MX2 Race 1 13:15; MXGP Race 1 14:15; MX2 Race 2 16:10; MXGP Race 2 17:10.