After the weather curtailed the racing at Canada Heights, it was time for round 2 of the Revo British Motocross Championship at the Caddershill Circuit, Lyng.With Jack Lindsay recovering from a broken leg, it was down to the experienced Ulsterman, Martin Barr to head the charge for Apico Husqvarna.
Martin Barr: "It was a steady day with P7 in qualifying, Lyng is a fast track and I prefer to wait until it's cut up before putting in a quick lap, I managed to hang it out regardless. This gave me a good enough gate pick for the day's racing.


In race 1, I had a great start and managed to maintain my position keeping with the front runners for the first few laps, then I made a small mistake and there were a few issues with the bike. I didn't feel comfortable, nonetheless, I put my head up and just kept going. I lost a couple of positions and finished 8th. It was an okay result, but not where I wanted to be. The class is stacked, and to be fighting up in the top 10 is tough, though it's what I need to be doing.


In the second race, I managed another good start, even with the problems in the first race still at the back of my mind. I managed to push on and get on the back of another rider, the roost meant my roll-offs ran out and I had to take off my goggles. I managed to keep going and cross the line for 7th and finish 7th overall. The big surprise was I jumped from 14th
 up to 7th in the Revo British Motocross Championship, which is not bad considering the DNF at Oakhanger".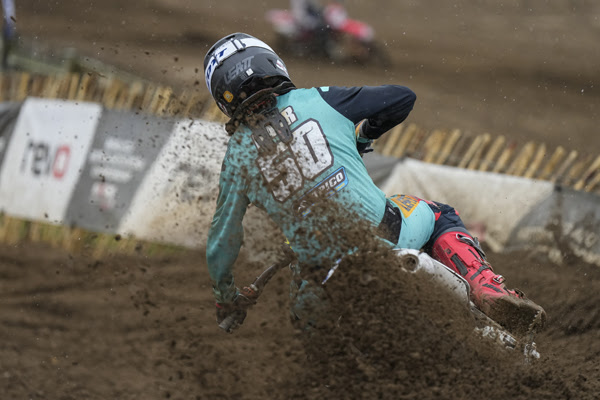 Dylan Brown: "The second round of the Revo British Motocross Championship saw our new team awnings, which worked very well and are much easier to set up compared to the metal frame units we've used previously. We received some good feedback and I'm happy with how they have turned out.

Martin had a great weekend, he always looked smooth and in control, which helped, as I know this is not one of his favoured tracks. That aside and ever the professional, Martin put in some solid riding, despite the suspected issues, and managed to jump to 7th in the championship. We now look to improve on these results going to Foxhills for the next round of the Revo British Motocross Championship".
Thanks to all the team members, sponsors, and those who follow our progress for their support".