The 73rd edition of the Monster Energy FIM Motocross of Nations saw the qualifying races today at the amazing facility at the Assen TT circuit.
Despite the rain thousands filled the grandstand area in support for their nation and their favourite riders. Throughout the races there was not a quiet moment on track, with the roar of the crowd erupting from every area of the circuit, in support for their team. 
Team Belgium will start in pole for tomorrow's races as their riders Kevin Strijbos, Jeremy Van Horebeek and Jago Geerts scored a total of 5 points between them. Second was The Netherlands team, with Jeffrey Herlings, Glenn Coldenhoff and Calvin Vlaanderen also scoring 5 points, with Team USA finishing in third with 7 points.
While it was Belgium who qualified best, the qualification race wins went to Team Switzerland's Jeremy Seewer (MXGP), Team USA's Justin Cooper (MX2) and Team Latvia's Pauls Jonass (Open).
Team Spain's Jorge Prado who made his debut in MXGP Class led the MXGP qualifier from Team Switzerland's Jeremy Seewer, Team Australia's Dean Ferris, and Team Slovenia's Tim Gajser. Some of the favourites for the MXGP class were struggling after poor starts, with Team France's Gautier Paulin 17th, Team USA's Jason Anderson 18th and Team Netherlands' Jeffrey Herlings back in 27th place.
After a lap Prado held a one second lead over Seewer, with Ferris third. Then came Team Belgium's Jeremy Van Horebeek, and Team Sweden's Filip Bengtsson in fifth. Coming through the pack were also Gajser and Van Horebeek, with both riders making a pass on Ferris, dropping the Aussie to fifth position.
Anderson moved up to ninth place, while Herlings moved up to 14th. Prado then lost the lead after a slip off and was forced back to sixth allowing Seewer to make the move into first.
Prado and Anderson were all over Ferris for fourth place, and Team Italy's Ivo Monticelli passed Bengtsson for seventh place. Meanwhile Herlings moved up to 12th. Both Prado and Anderson, eventually made a pass on Ferris.
Gajser started closing up on Seewer for the lead and Herlings was right onto the back wheel of Paulin and Monticelli. Herlings passed Paulin and Monticelli as he moved to 8thposition, sending the Dutch fans wild. Seewer continued his strong ride as he opened up his lead to more than two seconds on lap eight.
Bengtsson passed Ferris for sixth place and Herlings made sure to make the most of this opportunity, also passing the Aussie rider for 7th position.
Team GB's Nathan Watson moved up to 11thplace in the race, having started the race from almost last. Herlings was then all over Anderson for fifth place as the Dutchman showed his skills in the sad, clocking one of fastest laps of the race.
Herlings again had a super quick lap time as the track started to really get rough. Seewer held a four second lead over Gajser, Van Horebeek, Prado, Anderson and Herlings in sixth. Herlings then blasted past Anderson for fifth, with Seewer eventually taking the win of the MXGP heat from Gajser and Van Horebeek.
Jeremy Seewer: "It isn't an official MXGP race, but still amazing to win it. I got a good start from gate position 16, I saw Prado making mistakes and my riding was smooth. He made a mistake and I was able to get the pass and win, and now the pressure is off Team Switzerland."
Qualifying Heat MXGP Top Ten:1. Jeremy Seewer (SUI, Yamaha), 24:24.659; 2. Tim Gajser (SLO, Honda), +0:07.400; 3. Jeremy Van Horebeek (BEL, Honda), +0:13.371; 4. Jorge Prado (ESP, KTM), +0:22.859; 5. Jeffrey Herlings (NED, KTM), +0:23.401; 6. Jason Anderson (USA, Husqvarna), +0:30.482; 7. Filip Bengtsson (SWE, Husqvarna), +0:52.693; 8. Gautier Paulin (FRA, Yamaha), +0:56.200; 9. Ivo Monticelli (ITA, KTM), +1:06.932; 10. Dean Ferris (AUS, KTM), +1:08.158;
Team USA's Justin Cooper led the MX2 qualifier, followed by Team Australia's Kyle Webster, Team New Zealand's Dylan Walsh, Team Norway's Kevin Horgmo and Ivanovs fifth. Team Belgium's Jago Geerts was back in 12th on the opening lap.
After four laps the lead by Cooper was nearly five seconds, followed by Webster, Walsh, Horgmo, and Vlaanderen. Meanwhile, Olsen was back in 11th place. Team Great Britain's Adam Sterry found himself in trouble back in 14th position.
While Cooper continued to lead from Webster, Walsh, Vlaanderen and Horgmo, Vlaanderen moved up to third place as he made a pass on New Zealander, Dylan Walsh. And after making a mistake, Aussie Kyle Webster found himself off the track, but not lost any places in the process.
Nine seconds ahead and looking brilliant in the sand was Cooper, who completely blew away the theory that Team USA would struggle in the sand. Horgmo also passed Walsh for fourth place, and Vlaanderen cought Webster for second place on lap nine.
Vlaanderen started to catch Cooper for the lead, and was looking very quick, third was Webster, then Geerts and Forato in fifth. In the end it was Team USA's Justin Cooper who secured the win in the MX2 qualifying race after taking the holeshot and leading the whole race at his first MXoN attempt followed by Vlaanderen and Webster.
Justin Cooper: "I did a good job, I didn't expect to come out first and from that outside gate, that was good. This track is really tough but we will make some changes and come out tomorrow. Thanks to everyone supporting me."
Qualifying Heat MX2 Top Ten:1. Justin Cooper (USA, Yamaha), 25:21.913; 2. Calvin Vlaanderen (NED, Honda), +0:06.220; 3. Kyle Webster (AUS, Honda), +0:17.699; 4. Jago Geerts (BEL, Yamaha), +0:20.272; 5. Alberto Forato (ITA, Husqvarna), +0:20.710; 6. Thomas Kjer Olsen (DEN, Husqvarna), +0:23.292; 7. Dylan Walsh (NZL, Husqvarna), +0:28.409; 8. Kevin Horgmo (NOR, KTM), +0:33.692; 9. Alvin Östlund (SWE, Husqvarna), +0:46.518; 10. Maxime Renaux (FRA, Yamaha), +0:51.165.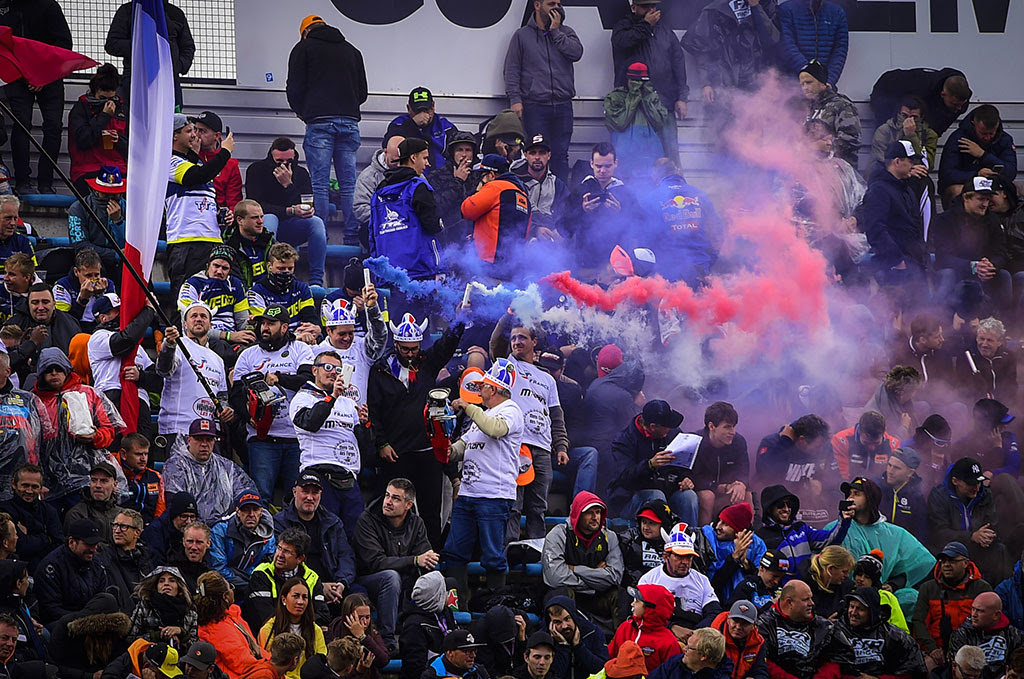 Team Belgium's Kevin Strijbos led the Open class qualifier from Team Finland's Harri Kullas, Team Latvia's Pauls Jonass, Team Australia's Regan Duffy and Team Poland's Szymon Staszkiewicz.
Team Netherland's Glenn Coldenhoff quickly made a move on Duffy and Staszkiewicz, with Team Great Britain's Shaun Simpson making the move up to 7th place and Team USA's Zach Osborne was up to 13th.
Jonass made a move into the lead and Coldenhoff moved into third place, as Duffy found himself in trouble which saw him drop down to fifth place. Two laps later, Osborne moved up into 12th.
After three laps Jonass was still in the lead from Strijbos, Coldenhoff, Kullas and Simpson in fifth while Osborne was up to ninth place.
After seven laps Jonass held a one second lead over Strijbos and Coldenhoff, followed by Kullas and Simpson with Duffy sixth and Osborne seventh. Strijbos closed up on Jonass for the lead with a second between them.
While Jonass continued to lead just ahead of Strijbos, Coldenhoff went down, but remained in third. Duffy also crashed but kept his position on the track. In the end it was Pauls Jonass who secured the win in the Open class, the first heat win for Team Latvia at the Motocross of Nations. Strijbos and Coldenhoff both had to settle for second and third.
Pauls Jonass: "It is always nice to race for your own country and get a win, and that's the first win for Latvia in this event. I got some wheelspin on the gate but felt good and passed Strijbos. I can't wait to to be there tomorrow"
Qualifying Heat Open Top Ten: 1. Pauls Jonass (LAT, Husqvarna), 24:55.952; 2. Kevin Strijbos (BEL, Yamaha), +0:01.147; 3. Glenn Coldenhoff (NED, KTM), +0:38.431; 4. Shaun Simpson (GBR, KTM), +0:41.618; 5. Harri Kullas (EST, Honda), +1:02.268; 6. Regan Duffy (AUS, KTM), +1:14.670; 7. Jordi Tixier (FRA, KTM), +1:21.168; 8. Zachary Osborne (USA, Husqvarna), +1:24.175; 9. Bastian Boegh Damm (DEN, KTM), +1:47.042; 10. Dennis Ullrich (GER, Husqvarna), +1:58.875.