MXGP and MX2 heads to Lommel, Belgium for the Fiat Professional MXGP of Belgium, the 14th round of 19 this season. While the deep sand circuit of Lommel is the weekly testing ground for nearly every MXGP and MX2 team, with most of team work shops near minutes from the track. But this year the circuit is reversed, so all the riders will have to re-learn the track!
With only 5 rounds remaining in the championship after this weekend, time is running out for any to challenge the two Red Bull KTM Factory Racing championship leaders Antonio Cairoli and Pauls Jonass.
Lommel will also serve as the venue for EMX300, EMX125 Presented by FMF Racing, and Honda EMX150classes. In EMX300 Brad Anderson has a 21 point lead over GL12 Racing's Mike Kras with only one race after Lommel in the championship. In the EMX125 Presented by FMF Racing class BUD Racing Monster Energy's Brian Moreau has the points lead but it less than 20 ahead of Rockstar Energy Husqvarna Factory Racing's Mikkel Haarup and recently crowned FIM Junior Motocross World Champion Gianluca Facchetti with 2 rounds still to follow this weekend. Finally in Honda EMX150 Italian Andrea Adamo leads Anton Nordström Graaf at the now halfway point of their championship.
Red Bull KTM Factory Racing's Antonio Cairoli sit a top a comfortable lead in the points and he has already proven that he has the physical prowess to take on the toughest of conditions. Cairoli's racing experience and physical fitness with both be necessary on what is known as one of the most demanding surfaces on the World Championship calendar. Winning here in 2010, 2011, and 2014 Cairoli knows what he needs to do to win.
Belgium may be home to nearly every rider now it has always been home for the both Monster Energy Kawasaki Racing Team's Clement Desalle and Suzuki World MXGP's Kevin Strijbos. While it's Desalle who has had the better 2017 season currently second in the championship, Strijbos is last year's overall winner in Lommel. Prior to last year's win Strijbos had a pair of top fives from 2014 and 2015 while Desalle finished 8th in 2016 but he had 2 podiums, a 2nd and 3rd, in 2011 and 2010.
Many believe this weekend we will see the sand master, Red Bull KTM Factory Racing's Jeffrey Herlings, on another level. Herlings, who is third in championship, continues to climb the ranks with good results. Winning the MX2 class in 2011 and finishing 2nd in 2010 the Dutch rider know his way around the Belgian sand as good as anyone.
The Frenchman Rockstar Energy Husqvarna Factory Racing's Gautier Paulin took his only win this year just across the border at the sands of Valkenswaard. With 3 top five finishes plus a second during past Lommel visits, he is definitely one to expect a solid performance out of.
Besides Paulin his Rockstar Energy Husqvarna Factory Racing teammates, Max Nagl and Max Anstie, are both ones to watch as Nagl has been fighting up front the past races and came in second last year while Anstie has gone 1-2, 1-1, and 1-1 between 2014, 2015 and 2016 in MX2 at Lommel.
HRC's Tim Gajser is coming back strong from his injury winning a race in Loket last time out and finishing on the overall podium. His fitness will surely be put to a true test on the Lommel circuit.
Monster Energy Yamaha Factory MXGP's Romain Febvre and Jeremy Van Horebeek are both keen to race Lommel as both have had good results in the past. Febvre finished 4th in 2014 and 3rd in 2015 while the Belgian Van Horebeek finished 4th last year.
MXGP Championship Top 10: 1. Antonio Cairoli (ITA, KTM), 523 points; 2. Clement Desalle (BEL, KAW), 431 p.; 3. Jeffrey Herlings (NED, KTM), 418 p.; 4. Gautier Paulin (FRA, HUS), 417 p.; 5. Tim Gajser (SLO, HON), 353 p.; 6. Romain Febvre (FRA, YAM), 338 p.; 7. Maximilian Nagl (GER, HUS), 308 p.; 8. Jeremy Van Horebeek (BEL, YAM), 294 p.; 9. Evgeny Bobryshev (RUS, HON), 286 p.; 10. Arnaud Tonus (SUI, YAM), 279 p.
2016 Fiat Professional MXGP of Belgium MXGP Top 3
Kevin Strijbos
Max Nagl
Antonio Cairoli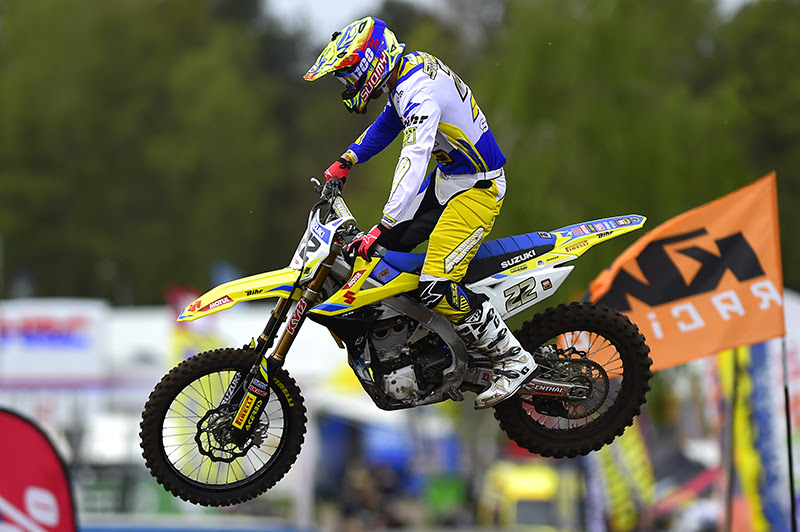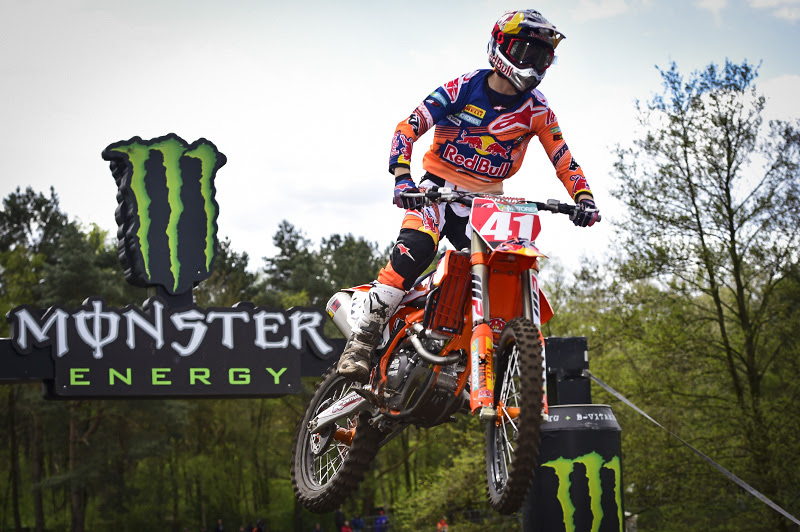 In MXGP unless you are Cairoli the chances of winning the title at this point are against you but in MX2 there is still a decent shot for points lead to change.
Don't be confused though, MX2's points leader, Red Bull KTM Factory Racing's Pauls Jonass, still has nearly 2 race wins over Suzuki World MX2's Jeremy Seewer 2nd with 47 points between the two. The problem is that Seewer has been strong lately winning two of the last three GP's. Jonass last raced Lommel in 2015 where he took 2nd while Seewer took 2nd in 2016.
Rockstar Energy Husqvarna Factory Racing's Thomas Kjer Olsen sits third in the championship only 5 points ahead of Kemea Yamaha Official MX Team's Benoit Paturel. Olsen has had a strong rookie season but Paturel has been coming on strong lately and took 5th here last year.
Up and down is the best way to describe both LRT KTM's Julien Lieber and Rockstar Energy Husqvarna Factory Racing's Thomas Covington's seasons. Lieber started the season with a handful of podiums but recently he has struggled and Covington has won an overall and races but he has struggled to have 2 wins on the same weekend. While Lieber is a native Belgian and used to the sand Covington grew up on the hard tracks of America. Covington however has been in Europe for quite some time spending many hours on this very circuit.
Last year's 3rd place finisher, Monster Energy Kawasaki MX2 Racing Team's Petar Petrov, will unfortunately sit out this weekend as he continues to recover from injury.
This weekend will undoubtably provided more epic racing between all our top contenders whether it MXGP, MX2 or EMX their ready to battle in Lommel.
MX2 Championship Top 10: 1. Pauls Jonass (LAT, KTM), 548 points; 2. Jeremy Seewer (SUI, SUZ), 501 p.; 3. Thomas Kjer Olsen (DEN, HUS), 403 p.; 4. Benoit Paturel (FRA, YAM), 398 p.; 5. Julien Lieber (BEL, KTM), 374 p.; 6. Thomas Covington (USA, HUS), 339 p.; 7. Brian Bogers (NED, KTM), 273 p.; 8. Jorge Prado Garcia (ESP, KTM), 268 p.; 9. Brent Van doninck (BEL, YAM), 226 p.; 10. Hunter Lawrence (AUS, SUZ), 225 p.
2016 Fiat Professional MXGP of Belgium MX2 Top 3
Max Anstie
Jeremy Seewer
Petar Petrov
TIMETABLE
Saturday: EMX125 Group 1 Free/Timed Practice 08:00; EMX125 Group 2 Free/Timed Practice 08:45; EMX300 Free/Timed Practice 09:30; EMX150 Free/Timed Practice 10:15; MX2 Free Practice 11:30; MXGP Free Practice 12:00; EMX125 Last Chance 13:10; EMX300 Race 1 13:40; MX2 Time Practice 14:15; MXGP Time Practice 14:45; EMX150 Race 1 15:25; MX2 Qualifying Race 16:25; MXGP Qualifying Race 17:10; EMX125 Race 1 17:55.
Sunday: EMX300 Race 2 08:40; EMX150 Race 2 09:45; MX2 Warm up 10:25, MXGP Warm up 10:45; EMX125 Race 2 11:30; MX2 Race 1 13:15; MXGP Race 1 14:15; MX2 Race 2 16:10; MXGP Race 2 17:10