It was the GP that defied the odds of hideous weather warnings and threat of coronavirus to run – and what a GP it was. The only snowflakes were the ones that fell in MXGP qualifying! Here's the official words from many of the top teams.
Red Bull KTM
Red Bull KTM Factory Racing commenced their 2020 FIM MXGP Motocross World Championship campaign with victory at a bright but wintery Matterley Basin in the UK. Jeffrey Herlings won the the British Grand Prix on his KTM 450 SX-F for the first round of twenty as Tom Vialle finished 2nd in the MX2 class with the KTM 250 SX-F having taken the first moto chequered flag of his young career.
The large and popular Matterley Basin circuit was hit by a variety of weather conditions, from incessant rain on Friday, to showers, strong winds and cold on Saturday to sunshine and bright conditions on Sunday. The track was rough, rutty and a decent technical challenge for the riders and a fine stage to open the 2020 season. Red Bull KTM Factory Racing lined-up with Tony Cairoli, Jeffrey Herlings and Jorge Prado (with a combined total of fifteen titles) in MXGP and Tom Vialle as well as Rene Hofer in MX2.
All three MXGP riders made a fast start in the sunny first moto at Matterley Basin and it was Herlings who hit the front early and controlled the race until the chequered flag. Cairoli was a steady 4th in front of Clement Desalle while Prado rode to a solid debut MXGP inside the top ten to 9th.
Herlings could do little about the escaping Tim Gajser in the second moto once he passed Cairoli for 2nd place. The Dutchman kept a consistent pace to ensure a 1-2 for the day and confirm his overall triumph; the 87th of his career. Cairoli's 3rd place was good enough for the same step of the rostrum – equalling Stefan Everts' all-time record – and a satisfactory result considering it was his first Grand Prix since last summer and with the nagging doubt of a stretched right knee ligament. Jorge Prado claimed 12th for 10th place overall and 21 valuable points after precious little time riding his motorcycle and just three months after breaking his left femur.
Jeffrey Herlings:"The first race out of twenty and I was consistent: two good starts, led the whole first moto, got into third pretty quick behind Tony and took second. The track was sketchy and the sun was really low. It is still that time of the year where it gets dark quite early, so it was hard with the shadows. I didn't want to take any risks and I was happy with second. It was a good weekend and I think we improved the bike over the winter because this was the first real test, let's say. I am looking forward to Valkenswaard now and my home GP."
Tony Cairoli: "It is nice to be back on the podium after so many months without racing. My shoulder has improved a lot in recent weeks but last week in Belgium I twisted my right knee and heard a crack. I thought 'the season is finished already'. I went to the doctor and he confirmed a second-degree PCL tear. I taped the knee very hard yesterday and today and all the ruts out there were not helping. I just need to work as much as possible on the muscle to make it as stable as possible. So to be on the podium at this track and these conditions is amazing and I'm motivated again to work really hard and try to build it up. We will see what we can do next."
Jorge Prado: "I'm a world champion so finishing 10th is not something I am used to; the last two years have been really good. But if I look at it the other way and after just two weeks of riding then I have to feel very happy about today. I didn't have any pain and I have been working hard: this was the best I could do. I would say that last 6-7 minutes and two laps of the second moto were quite hard. The track was super-rough and I was pretty tired. I did not want to crash, and the sun was very low. First race of the season, first race with the 450 and the last time I raced was in Assen: what a weekend."
Vialle established a big margin as leader of the opening MX2 sprint but then cased the uphill triple with almost two laps remaining and stalled the bike, losing positions. The Frenchman frantically tried to react but ended up with 6th; two places in front of teammate Rene Hofer who was part of an entertaining battle for the top five for most of the moto until the rookie slowed his pace in the closing stages and a late mistake was costly. The Austrian was 8th.
Both Vialle and Hofer made up for their mistakes in the second race: Hofer earned the holeshot and led for ten of the thirteen laps until Vialle, hunting him just behind, moved ahead and earned his very first moto victory in just his second season. Hofer's runner-up slot placed him 5th overall as Vialle classified 2nd behind Jago Geerts.
Tom Vialle:"I was feeling really comfortable with the bike in the first race but I made a mistake on a big jump and came too short. It was difficult to restart and I then finished sixth. The second race was better! It was tricky to pass Rene and also it started to rain a bit and I had a problem with the goggles. So I waited and then pushed hard. I won my first race and finished 2nd in the first GP of the year so I'm really happy with that."
Rene Hofer: "Just amazing. My goal was to take two good starts and to try and ride like I do in practice. In the first moto I was 5th at the start and made my way up to 3rd and had nearly half the race there but could not make the pass on [Mathys] Boisrame and dropped back with some arm-pump. I was 6th on the last lap – and was OK with that – but made a small mistake, tipped over and lost two positions. In the second race I made the holeshot and passed Jago on the second lap. I really enjoyed the track. It is one of my favourites of the year. I almost led until the end. Anyway, it is the first GP of the year it feels incredible. I'm really happy."
KTM 125 SX rider Liam Everts dominated the first event of the EMX125 European Championship with an undisputed 1-1 set of results. One of the motos was held in muddy and treacherous conditions on Saturday afternoon. The teenage Belgian is an early holder of the red plate in the eight-round competition.
Round two of MXGP takes place next weekend at the Eurocircuit near Eindhoven for the Grand Prix of the Netherlands.
HRC Honda
Team HRC got off to a great start in the 2020 world motocross championship as Tim Gajser fought back from an eighth in race one to win the second moto by over 20 seconds. Team-mate Mitch Evans, also produced two excellent displays of riding to go three-seven for fifth overall at the MXGP of Great Britain.
After storms hit the track on Friday night, the Saturday schedule was shortened in order to limit the damage but Sunday was a completely different story as the Matterley Basin circuit was at its picture-perfect best for the two MXGP motos.
In race one, both of the new Honda CRF450RW riders got decent jumps out of the gate and rounded the first corner inside the top 10. Unfortunately, in the second corner, with the riders all bunched together, Gajser got bumped out of a rut and lost his balance. By the time the #243 had picked his bike up, he was at the back of the field and left with a lot of work to do. Evans managed to avoid this incident and instead found himself in third place and within striking distance of the top two. He then quickly moved into second place and then even made a move for the lead but wasn't quite able to make it happen.
Meanwhile, Gajser was working his way quickly through the field, getting inside the top 10 by lap four. However, each pass was getting more difficult and he eventually got to eighth, five places behind Evans who crossed the line in his maiden MXGP moto in an impressive third.
For race two, it was Gajser's turn to take control and he swept into the lead right after the holeshot line. The Slovenian rider had a point to prove and he put on a display that was one of the most impressive of his career, winning by over 20 seconds and posting a laptime more than one second quicker than his nearest rival. The victory gave him a total of 38 points, which was good enough for second overall and a solid beginning to the defence of his MXGP crown.
Unfortunately, Evans wasn't able to repeat his moto one start and was down the field as they rounded the first few corners. By the time they crossed the line for the first time, the Australian was in 15th place and charging hard, and within two more laps, he was inside the top 10. Despite this being his first MXGP on a 450cc machine, he continued to overtake much more experienced competitors and eventually finished in seventh place, giving him an excellent fifth overall.
The team now head straight to the Netherlands in order to prepare for the second round of the MXGP championship, which will be held at the sandy Valkenswaard track on March 7-8.
Tim Gajser 243
I'm happy with how this first round of the season went. Just I had a couple of crashes in the first moto, with one right at the beginning of the race which meant I started from dead last. I worked my way through the field to finish eighth, after the second crash right at the end dropping me one spot. In the second race I was hoping to get a good start and show my riding a bit better and that's what happened. With the low sun and the ruts, the track was really quite tricky but I felt good and the moto felt comfortable. Second overall isn't too bad after my first moto so now we move onto Valkenswaard for a new challenge.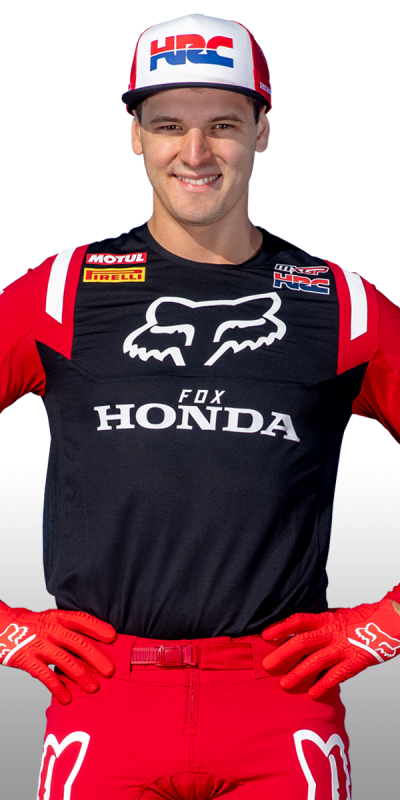 Mitch Evans 43
It was a good weekend, excluding the start of that second moto. Everything else went really well. In the first race I had a good start, avoiding some of the early race carnage and made my way into second. Unfortunately, I struggled with my breathing a bit because of my chest infection and finished third. I felt a lot better in the second moto although I had to push throughout the race because of the bad start. I used a lot of energy to get around guys as fast as I could and I hit a bit of a wall with eight minutes to go. Overall it was a good weekend though, I'm happy with my MXGP debut and now I get ready for Valkenswaard next weekend.
Rockstar Husqvarna
Jed Beaton has claimed Rockstar Energy Husqvarna Factory Racing's best overall result at the opening round of the 2020 FIM Motocross World Championship, narrowly missing out on an MX2 class podium finish to place a strong fourth overall at the MXGP of Great Britain.
With the first round of the new season proving challenging for all teams and riders due to adverse weather, a revised schedule and a hugely difficult MXGP qualifying race on Saturday was thankfully followed by bright, dry but cold conditions throughout all MXGP and MX2 races on Sunday.
Making a hugely positive start to his 2020 MX2 World Championship campaign, despite being frustrated at ultimately finishing just shy of a final overall podium result, Jed Beaton delivered a stand-out performance in the day's opening MX2 moto. Completing the opening lap in seventh following a good start, he took a few laps to dial himself into the track before starting to move forwards on lap six.
Initially moving into fifth, just two laps later the young Australian was third and looking increasingly comfortable around the British circuit. Consistently ticking off the laps the FC 250 mounted rider continued to push hard and with four laps to go moved into the runner-up position behind Jago Geerts. Successfully completing the closing laps of the race, he rounded out the first MX2 moto of the year in second.
Race two saw Beaton again show good speed, taking his time to find his rhythm before moving forward two spots and looking to repeat his opening moto performance. With intermittent rain making the track slippery in places, Jed made a small mistake and fell, which dropped him back to eighth. Despite making up two positions to finish the race in sixth, his hopes of a final podium result were ended. Nevertheless, in placing fourth overall, Jed made a strong start to his 2020 campaign, showing impressive speed in both motos.
Joining teammate Beaton in completing a positive weekend at Matterley Basin, Thomas Kjer Olsen rounded out the GP in seventh overall in the MX2 class. The Dane was unable to ride for more than one month ahead of the British event due to injury, but despite his time off the bike he showed impressive speed in the second moto.
In the opening MX2 race Thomas was unable to recover from a poor start and having completed the opening lap in 11th was unable to break inside the top 10 and completed the race in 11th. Getting a good jump from the start in race two, TKO set himself up well for strong result by completing the first lap in fifth. Holding his position for the opening lap, he then jumped into third position which he held until lap 10. Running the pace of the two riders ahead of him, although eventually ending the moto in fifth, Thomas showed impressive form despite his lengthy time off a bike.
The opening round of the 2020 world championship proved to be a challenging one for Rockstar Energy Husqvarna's MXGP class riders Arminas Jasikonis and Pauls Jonass. With Arminas completing the event in 12th overall, Jonass was unable to finish higher than 18th having been forced to withdraw from the second race following a heavy fall.
Completing the opening laps of each race in 28th and 33rd respectively, Jasikonis dug deep to do the best he could in both races but frustratingly was unable to make any impression on the top 10. Making numerous passes throughout each race the FC 450 rider showed some strong pace and impressive lap times while amongst traffic.
Completing the opening MXGP moto of the season in 12th, Pauls Jonass' hopes of an improved result in race two were ended when the former MX2 World Champion crashed twice. Dropping a handful of places the first time he hit the ground, his second crash was a big one, which ultimately lead to him retiring from the moto.
Rockstar Energy Husqvarna Factory Racing will next be in action at round two of the FIM Motocross World Championship, for the MXGP of The Netherlands, on March 8.
Jed Beaton:"It was a good weekend for me. Fourth overall is a great result for the first Grand Prix, although I'm a little disappointed to miss the podium because of a small crash in the second race. In the first moto I had a good start, found some nice lines and came from eighth to second, which was great. I felt good and, yeah, it was good to get that result in the books. Second moto, it took a while to settle into a rhythm and then I just washed the front wheel out in a corner, losing a few places and I finished the race in sixth. For the upcoming rounds I just need to be a little more patient. Overall, it's been a great day and there are plenty of positives to take into round two next weekend."
Thomas Kjer Olsen:"I'm happy with my weekend after only two days on the bike this week after my injury in January. I was a little disappointed with the first moto, my start wasn't great, and I was buried in the pack. It's a competitive class so it's hard to pull through when you get a bad start. Fifth place in the second race was good and I'll happily take that after being off of the bike for so long. Seventh overall is a good result and a good start to the season. I came here looking to make as many points as possible, and that's what I did and I'm already looking forward to next weekend and knowing that my speed and fitness are both really good."
Arminas Jasikonis:"In my first race I crashed three or four times and it was just a disaster. I needed to ride with my head but instead I pushed too hard, causing more mistakes and crashes. In the second moto, I had a much better start but tangled with my teammate on the first lap and ended up on the ground. I was then almost last so to finish that race in 14th is not so bad. There are positives to take from here despite the result, like my speed in traffic and also my lap times, which were competitive. I know I'm strong and fast and I'm leaving here healthy, so we'll draw a line under this one and improve next weekend."
Pauls Jonass:"Clearly it's not been the weekend that myself or the team wanted, but we'll move on from it and focus on next weekend's GP. I know I'm capable of a lot better than what we got this weekend. The first race wasn't what we wanted but the crash in race two was a big one. It could have been really bad, so we move on and look to get things back on track next weekend."
Monster Kawasaki MXGP
Clement Desalle of the Monster Energy Kawasaki Racing Team made a solid start to the FIM World MXGP Motocross Championship with fifth place in each moto of the British GP at Matterley Basin.
The Belgian was in determined mood as he made a series of decisive early passes to advance to fourth and, setting faster lap times than anybody other than the race leader, put pressure on the other podium-chasers until a minor slip as the front wheel dug into a berm cost him three places. Regrouping quickly, he was back to fifth place six laps from the end and was closing rapidly on the rider in fourth as another small slip cost him contact even though he quickly remounted to retain fifth. He was again soon fifth in race two and maintained that position to the finish in a rapid leaderboard train, just a few seconds covering third to eighth at the finish. His brace of fifth-placed finishes surprisingly earns just seventh overall with close total scoreline on the day but he goes to round two just six points behind second in the series.

Clément Desalle: "It was my first GP since June last year; that's a long time but I immediately had a good feeling. The schedule was much lighter yesterday because of the weather; we had only one session to learn the track and work on the settings. I got a good start in the first race and was fourth, close to the third guy, when I made a mistake coming into a corner as a rut was soft; I crashed but I came back, made another little mistake but still finished fifth. I used a lot of energy in this race, and in the second one I was fifth after the first corners and kept this position to the finish; it's been a pretty good weekend and my speed was good but we'll continue to work to do even better."

KRT and Romain Febvre made a mutual decision that the Frenchman would not contest the GP to ensure he suffered no further damage to a painful knee injury sustained in a training crash last week.OTHER DOCS
PRINT
GasGas MXGP
GASGAS Factory Racing have successfully completed their participation in the opening round of the FIM Motocross World Championship, the MXGP of Great Britain held at Matterley Basin. Ensuring a memorable weekend at the start of their first full season of MXGP and MX2 class competition, Standing Construct GASGAS Factory Racing's Glenn Coldenhoff secured two impressive sixth-place results aboard his MC 450F machine.

Glenn Coldenhoff starts his 2020 MXGP campaign with eighth overall
MC 450F mounted rider overcomes difficult qualification to post strong 6-6 results
Motocross World Championship next heads to Coldenhoff's home GP at Valkenswaard
With high winds and heavy rain prior to the event, forcing organisers to drastically change Saturday's practice and qualifying schedule, Coldenhoff was one of a number of riders unable to complete a satisfactory lap. At the end of the challenging 20-minute qualifying session, he secured the 18th fastest time, with teammate Ivo Monticelli 25th fastest.
The opening MXGP moto saw Coldenhoff start well, completing the first lap in sixth and then continuing to ride strongly throughout the race. Moving forward to fifth on lap two, Glenn held his position until lap seven when he dropped back one place to sixth, where he stayed until the chequered flag. Glenn completed the first moto just 30 seconds behind race winner Jeffrey Herlings.
Although not getting such a good start in the second race, Coldenhoff nevertheless completed the opening lap inside the top 10, before battling back-and-forth between eighth and ninth throughout the opening nine laps. In moving into seventh on lap 10 he showed impressive late-race speed, continuing to push hard during the closing laps of the race. Moving into sixth on lap 11 he rounded out the race without mistakes to match his first moto result and bring the season's opening GP to a positive close.
Earning 30 world championship points from the MXGP of Great Britain, Coldenhoff sits just eight points behind second placed Tim Gajser heading into round two.
For Coldenhoff's teammate Ivo Monticelli the first round of the 2020 MXGP series was a challenging one. Showing strong form to work his way to 10th following a 15th place start, the Italian looked set for a promising opening-moto result. Pushing hard, a fall resulted in the Italian landing heavily on his elbow, which resulted in pain in his left shoulder. Forced to bring his first race to an early end, he then ran as high as 15th in the second moto before another fall saw him drop back to an eventual 24th.
The DIGA Procross GASGAS Factory Juniors team saw Jeremy Sydow collect 15 MX2 championship points having finished a deserved 13th overall. A strong 12th place finish in race one was followed by a 15th in moto two. In his very first GP, 15-year-old Simon Langenfelder posted a 29-29 result to kickstart his MX2 World Championship career.
In the EMX125 class Guillem Farres finished just outside the top 10 in 12th overall following 16-12 results while David Braceras finished 19th overall after a second race 13th place result.
Glenn Coldenhoff:"It was a solid weekend for me, two sixth-place finishes is a very good start to the championship. Qualifying yesterday wasn't great, which didn't give me the greatest gate pick for today's races. But it was what is was and this morning in warm-up I felt great and posted the third fastest time. That gave me some confidence heading into the races. My first moto start wasn't great, but I pulled through from around 10th to sixth, so it was good to get the championship started with a positive result. The second moto was very similar to the first. I felt good, felt like my speed was there and had some good battles. I know that if my starts are better I can fight with the guys that were ahead of me this weekend. I'm looking forward to the next GP, it's one of my favourites and I hope to get some solid results there too."
Ivo Monticelli:"It's been a tough weekend for me. In the first race I didn't get a good start, but I worked my way from 15th to 10th in the first lap, so that was good. I was pushing to improve and then made a mistake in a corner. I landed heavily on my left elbow and felt a lot of pain in my shoulder. I was worried that I had done some damage, so I stopped my race. The good news was that noting was serious and after some time it started to feel better. With some ice and some time to recover I was ready for the second race. I wasn't sure what I could do in the second moto, but I wanted to see what I could do. I crashed again, and, well it hasn't been a good weekend. There were some positives from this first GP, but now I have to put these results behind me and focus on next weekend."
Both Standing Construct GASGAS Factory Racing and the DIGA Procross GASGAS Factory Juniors will continue their FIM Motocross World Championship campaigns on March 8, at the MXGP of The Netherlands.

Monster Yamaha MXGP
Monster Energy Yamaha Factory MXGP travelled to the picturesque circuit of Matterley Basin in the United Kingdom for the opening round of the 2020 FIM Motocross World Championship this past weekend. It had been eight years since the Grand Prix campaign last begun in front of European fans, so it is not surprising that 34,500 fans turned out to take in the action.

Unfortunately, poor weather hindered proceedings at the start of the weekend. A horrific storm forced the powers that be to run an abbreviated schedule, which meant the MXGP guys had one timed session instead of the qualifying moto. It was a race against time during the session, but the three Monster Energy Yamaha Factory MXGP riders all secured solid positions on the gate for the two heats. The weather was better by the time the points-paying motos started and the riders raced in enjoyable conditions.Jeremy Seewer was the strongest YZ450FM pilot. Seewer finished a brilliant second in moto one, reminding everyone why he was the runner-up in the points a year ago, and set himself up to stand on the box at the end of the weekend. A mediocre start and lack of back brake restricted him in the second encounter though and he could only salvage an eighth. That was still good enough for fourth overall – just three points separated him from the rider on the lowest step on the podium.

Gautier Paulin has always been a solid contender around Matterley Basin and this year was no different. A seventh in race one (after a crash) was followed up by a fourth in race two, which left him in sixth overall at the end of the weekend. Three points separate him from his teammate, Jeremy Seewer, heading into round two in less than a week. Arnaud Tonus salvaged solid points via an eleventh and eighteenth in the races. Tonus is still recovering from a very small thumb injury that was sustained in recent weeks.

There is no time to rest for those in the Monster Energy Yamaha Factory MXGP squad, as round two of the 2020 FIM Motocross World Championship will be held in the Valkenswaard sand next weekend. The home Grand Prix for the squad is undoubtedly going to be a spectacular affair.Jeremy Seewer: "It was a strange weekend because of the time schedule. We lined up with no time on the track, but it was the same for everyone. I started off with an epic holeshot, like a whole bike length ahead of everyone, so that was super cool. I finished second, so that was a really positive start to the season. It proved we did a good job in the winter because the track was really technical and tricky. In the second race, I had contact with another rider and he damaged my brake. I had to ride without my brake for the whole race which made it super tough. I think I still took good points, so I am happy with this and my speed is good. It is just a shame I couldn't stand on the podium today, but we will keep working and be back next weekend."
Gautier Paulin: "I'm in the game. I felt good all weekend long, but it was just a strange weekend. Riding a new bike on such a tough track, with not a lot of time on the track, and then with the weather being off and on, rain and then sunshine and then rain. I got sideways out of the gate and then it was tough to come back through the pack. I crashed but got back to seventh. In the second race I got to fourth pretty quickly, but I really struggled with the sun. I didn't want to pull my laminates off because I didn't know if it was going to rain or not. I am really happy with the team: They are all working really hard. The feeling is good, and the season is long."
Arnaud Tonus: "It was a hard weekend for me. I kind of expected it because I have had some time off with a thumb injury. I wasn't sure that I would be able to ride, so I am already happy that I could line up. I felt alright on the track, but I had bad starts and I just didn't have the pace to move forward. My thumb was still hurting quite a bit as well, but from here I will recover and be back next weekend."
Monster Yamaha MX2
A day of firsts has seen Monster Energy Yamaha Factory MX2's Jago Geerts make his 2020 goals and intentions clear with an emphatic Grand Prix win, the first of his career, at the opening round of the FIM MX2 World Championship in Matterley Basin, Great Britain. Consequently, the 19-year-old has also clinched the first red-plate of the new season for the first time in his career as the MX2 championship leader.

The spectacular Matterley Basin circuit that hosted the first MX2 Grand Prix of 20, presented challenging conditions after torrential rain and high-speed winds drenched and battered the venue only days prior. As a result of the weather, Infront Moto Racing, the series promoters revised the program on Saturday 29th February which only allowed time for one practice session out on track.
In the opening race, Geerts emerged from turn-one in sixth position. Despite his tender age, he showed maturity as he stalked the top-five for the first 10-minutes before taking a run at the lead.
With 20-minutes remaining, the enormous crowd erupted with noise as the young Belgian passed the hometown hero Conrad Mewse for fourth position and set his sights on second place. The battle for second was a thriller with five riders charging for the same spot and it only got more entertaining when the early race leader, Tom Vialle, gifted Geerts the lead after he stalled his bike on the penultimate turn of Lap-9.
Geerts capitalized on the error of his rival and used the undeniable torque and speed of his YZ250FM to take the first race victory of the 2020 season, and second race win of his career.
Meanwhile, Ben Watson suffered from arm-pump after having three-weeks off the bike due to a broken hand but was still happy to finish seventh in the opening race given his circumstances.
Fired up after a sensational victory in Race 1, Geerts took his YZ250FM to an impressive holeshot in Race 2 but was shuffled back to second position on the opening lap by young new-comer Rene Hofer.
Geerts remained calm in second place but was caught out by the rough and rugged circuit and fell while challenging for the lead. After making a quick remount, the 193 responded to his mistake by setting the fastest lap of the race a single lap later.
The United Kingdom is renowned for its crazy weather patterns, and it did not fail to deliver. From forcefull winds to torrential rain, to bright blue skies to hail, the MXGP of Great Britain had it all and so did the second MX2 race of the weekend.
Geerts was unphased by the elements as he continued to find new lines and pass more riders on his way to a fourth place finish to end his weekend with a career milestone, his first ever Grand Prix victory, and his first time leading the MX2 World Championship.
Watson labored home 22nd after a rear issue left him without a rear brake. He now starts the season 15th overall in the MX2 Championship Classification.
The Monster Energy Yamaha Factory MX2 Team led by Hans Corvers has finally obtained the red plate for the first time in the 23-year history of the team. Their achievement marks a first for Yamaha in MX2 since Antonio Cairoli took the red plate onboard a YZ250F at the British Grand Prix in Matterley Basin in 2008.
The next round of the MX2 World Championship which will take place in a weeks' time in Valkenswaard, The Netherlands on the weekend of March 8th.
Jago Geerts – MX2 Grand Prix of Great Britain Winner
"It feels really good. It was a nice weekend. It was a little bit difficult in the second race. I crashed and hurt my shoulder a little bit but still managed to come back and get my first GP win. I'm really happy with that, and I get the red plate for the first time which is nice especially with Valkenswaard next weekend, a track that is not far from my home, I think it will be really special with a lot of fans out there. It will be nice, and I can't wait."
Ben Watson – MX2 Grand Prix of Great Britain 15th Position
"I didn't expect a lot this weekend. I had missed a lot of bike time with a small hand injury. I was pretty happy with my first race considering the bike time we had yesterday. I actually needed all of the sessions yesterday, but they were canceled, so that was a little bit annoying. I got really tight in the first race, but I backed off a bit and that helped. I know seventh isn't an amazing result, but I will take that for race one. It was solid points. Unfortunately, in the second race, I had an issue with my rear brake, so I had to ride the whole race without it. It's only the first round so it's not the end of the world. I'm still healthy and we will be ready to go again next week."
Fantic
The first round of the 2020 EMX125 was held yesterday on the challenging track of Matterley Basin. The circuit, built on the sweet hills close to Winchester, in the Hampshire, was ravaged by the storm Jorge, with winds that blew over 100 kilometers per hour, creating many difficulties in carrying out the program of practices and races. Qualified with the seventh best lap time of his group, Andrea Bonacorsi picked the fourteenth gate for Saturday's first moto, taking a not so brilliant start and recovering in the first lap a lot of positions, despite the poor conditions of the ground, crossing the finish line of the first lap in seventh, charging trough the pack till the fourth place, before some technical issue forced him to retire from the race, while he was going for the third. In the second moto, with way better track conditions, the young Italian managed to take a decent start with his XX 125 and recovered some more position, ending the race in fifth place, what give him a solid top ten in the overall and in the championship standings. Next appointment with the EMX125 in just over a month on the unseen Spanish track of Intu Xanadú in Arroyomolinos, near by Madrid for the MXGP of Spain.
Andrea Bonacorsi #32: "The first round of the European championship at Matterley Basin was quite positive, I scored the seventh fastest time in the timed practice of my group, then in the first heat I didn't took a good start but I managed to recover many places already in the first lap, crossing the finish line for the first time in seventh. I made a good comeback until I was behind the third but just as I was charging for him, an issue with the bike forced me to retire. In the second heat I started much better than in the first, I recovered some positions and I finished in fifth place, which earned me the tenth overall of the race. Too bad for the DNF in the first race of saturday but the races are like that. Now we continue to work ahead for the second round in Spain and I want to thank my family, the team and the sponsors".
SS24 Shaun Simpson KTM
A tumultuous climate for the British Grand Prix and the first round of 2020 MXGP saw Shaun take an encouraging 11th position at Matterley Basin.
The Scot's home round was a busy but fitting stage to launch SS24 KTM MXGP and the new awning and set-up saw the presence of many fans and well-wishers throughout the weekend. Strong winds were the only consistent factor through a period of three days that saw the circuit hit by relentless rainfall and cold conditions and then bright sunshine on Sunday.
Saturday's practice and qualification schedule had been reduced to a single session due to the state of the track and the destructive effect of the gusts on elements of the circuit's infrastructure.
On Sunday Shaun was busy and happy to receive a hefty autograph queue in the paddock as the public responded to the longed-for blue skies. On the track the first moto did not go to plan. Simpson made a good job out of the gate but then tagged Jeffrey Herlings and almost crashed. He veered off the track and re-joined in last place. A superb first lap saw him into the top fifteen but then he was hit by Brian Bogers and crashed. Far outside the top twenty, #24 worked through his urgency and some arm-pump to start regaining positions. He matched the pace of the top ten riders and made ground: reaching 18th by the chequered flag.
In the second moto a degree of normality was resumed. A top ten start turned into a close chase with Benoit Paturel for 12th place and he pushed hard with an effective rhythm to capture 11th; earning the same ranking in the overall classification.
"If you'd asked me coming into the weekend then I would have liked an overall top ten finish," he said. "There were shenanigans on Saturday and the fuss over warm-up Sunday morning but the points make the prizes. I would have liked to have been in the top ten and with 18th and 11th I never thought I'd be close but we ended-up 11th: I'll take that as a positive amongst the hundreds from the weekend like the help from sponsors, family, friends, the compliments on the set-up, reaction from the fans and working with the bike to find solutions in a competitive scenario. Honestly, I'm buzzing. I want to go home tonight and work even harder tomorrow."
Matterley Basin was the first of twenty rounds and forty motos in seventeen countries until the end of September. A hectic schedule of almost three Grands Prix per month with SS24 KTM MXGP also wedging British Championship dates in between. "Let's just keep this thing rolling," Shaun commented. "There will be races where riders have one good moto and one bad and I just need to keep consistent. It would be nice to pressure the top five now-and-then but if I can keeping chapping-on inside the top group and keep making 20-odd points a weekend then that will bring me up. The more I do it, the stronger and fitter I am going to get with the front guys."
The rutty and bumpy English mud may have opened Shaun's fifteenth year of racing but it was the first for his personally-tuned KTM 450 SX-F. "I'm happy but we are still figuring a few things out with small details like tyre choice," he assessed. "I was really happy with how I rode and how the bike felt in the second race and we will take that onto the next one. I felt comfortable out there and if you asked me to do another 30 minutes around that track then not a problem. That's how I need to feel. If I am on edge and sketchy then I wont twist that throttle back but right now I am good."
The extremities of the weather made for a testing weekend and despite a couple of brief showers and hail on Sunday the venue was largely sun-kissed with an official 34,500 attendance for the weekend. "I think they pulled it off," Shaun said. "It didn't run perfectly because the weather hit us hard. The [practice] sessions changed but the motos all ran and there was some good racing. It was a massive gamble but it was a positive thing to have a British GP on the calendar and nice to start the championship here, which hasn't happened for an long time, not in my career anyway. On the whole a good weekend and nice to see a lot of people out for it."
The Grand Prix of the Netherlands takes place next weekend at the Eurocircuit in Valkenswaard; scene of Shaun's very first FIM world championship moto victory back in 2009.