The 18th round of the FIM Motocross World Championshipheads back to Europe after a visit to the United States. The MXGP of Netherlands will take place at the sandy Assen TT Circuit in the northern part of the country. The circuit may be man made but it will likely be one of the most epic weekends of races this season as Red Bull KTM Factory Racing's Jeffrey Herlings will race his home GP against the likely title winner Red Bull KTM Factory Racing's Antonio Cairoli.
Joining the MXGP and MX2 classes in the Netherlands is the FIM Women's Motocross World Championship, the Veterans World Cup, and Honda EMX150 Championship. In the WMX it's a four way battle between Altherm JCR Yamaha's Courtney Duncan, MXFONTARACING Syneco's Kiara Fontanesi, Team One One Four's Livia Lancelot, and Nancy Van De Ven. Meanwhile in Honda EMX150 class Andrea Adamo leads the championship by only four points over Anton Nordstrom Graaf.
For the VMX it is a unique one weekend event in which the overall will be crowned Veteran World Cup Winner.
Red Bull KTM Factory Racing's Antonio Cairoli had the chance to claim the MXGP title last weekend and barely missed out. All of which was due to Red Bull KTM Racing's Jeffrey Herlings out performing Cairoli to keep the championship alive for another weekend.
Herlings will now have the extra benefit of this being at his home GP, one which he won last year in MX2 while Cairoli finished 2nd in MXGP. The Dutchman will however need all the luck on his side if he hopes to take it a step further as the odds are greatly in Cairoli's favor for a ninth world championship title.
Rockstar Energy Husqvarna Factory Racing's Gautier Paulin holds third in the championship just 1 point ahead of Monster Energy Kawasaki Racing Team's Clement Desalle. Paulin comes into Assen after a hard first race crash in the US and then a strong 4th in race 2, which is where he finished in the 2015 overall. Desalle on the other hand had only an 8th and a 9th for 7th overall in the USA but is last year's overall winner in Assen.
The winner of the 2015 overall in Assen's MX2 class Team HRC's Tim Gajser is now 5th in the 2017 MXGP Championship and has been crowned 2016 MXGP Champion in the meantime. Gajser has been on a comeback lately and is a potential winner this weekend.
Other riders to watch include both the Rockstar Energy Husqvarna Factory Racing boys of Max Anstie and Max Nagl. Anstie took 4th last year in MX2 and 2nd the year prior. Nagl meanwhile took 4th in 2016's MXGP class overall.
Last but not least is the other Red Bull KTM Factory Racing rider from the Netherlands, Glenn Coldenhoff. Coldenhoff took 3rd overall during the last MXGP visit to the Assen circuit.
Monster Energy Factory Yamaha MXGP's Romain Febvre is a potential podium finisher as well seeing he has fond memories of the Assen circuit, it is where he claimed his 2015 title.
MXGP Championship Top Ten: 1. Antonio Cairoli (ITA, KTM), 673 points; 2. Jeffrey Herlings (NED, KTM), 577 p.; 3. Gautier Paulin (FRA, HUS), 545 p.; 4. Clement Desalle (BEL, KAW), 544 p.; 5. Tim Gajser (SLO, HON), 485 p.; 6. Romain Febvre (FRA, YAM), 441 p.; 7. Jeremy Van Horebeek (BEL, YAM), 400 p.; 8. Maximilian Nagl (GER, HUS), 390 p.; 9. Glenn Coldenhoff (NED, KTM), 377 p.; 10. Evgeny Bobryshev (RUS, HON), 366 p.
2016 MXGP of The Netherlands MXGP Top 3
Clement Desalle
Antonio Cairoli
Glenn Coldenhoff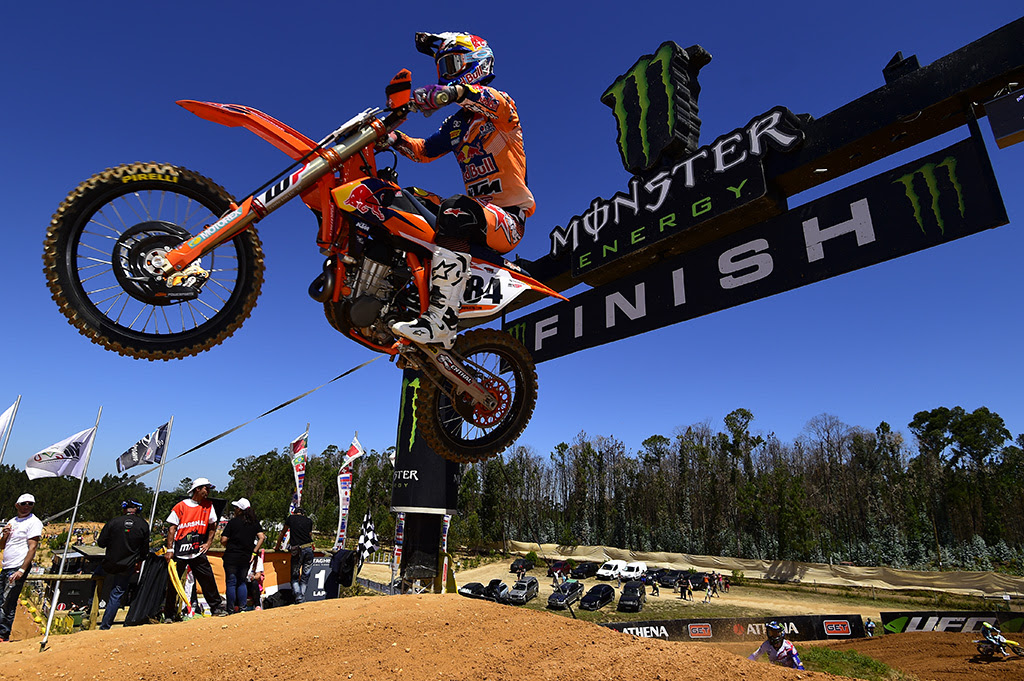 In the MX2 championship Red Bull KTM Factory Racing's Pauls Jonass lost out on points last weekend to Team Suzuki World MX2's Jeremy Seewer. Seewer is still 40 points back but there is a chance for anything to happen in this ultra competitive MX2 class. Jonass last raced Assen in 2015 and placed 6th while Seewer has raced both in 2015 and 2016 with identical results of 5th overall.
Rockstar Energy Husvqvarna Factory Racing's Thomas Covington, Thomas Kjer Olsen, and Suzuki World MX2's Hunter Lawrence both come off of strong results from the US and are ones to watch this weekend.
Covington's sand riding has notably improved, the American finished 9th in 2015 and 6th 2016 at Assen. Though in his rookie season Olsen finished 5th in 2016's MX2 class after jumping up from the EMX250 ranks.
Kemea Yamaha Official MX Team's Benoit Paturel will not be racing after his season came to an end in result of a practice crash and injury prior last weekend's racing.
Two other riders to watch are the HSF Motorsport Team rider from the Netherlands Brian Bogers who had a top ten in 2015 followed by an impressive 2nd last year and Red Bull KTM Factory Racing's Jorge Prado Garcia after his podium finish in 2016.
MX2 Championship Top Ten: 1. Pauls Jonass (LAT, KTM), 696 points; 2. Jeremy Seewer (SUI, SUZ), 656 p.; 3. Thomas Kjer Olsen (DEN, HUS), 523 p.; 4. Benoit Paturel (FRA, YAM), 504 p.; 5. Thomas Covington (USA, HUS), 457 p.; 6. Julien Lieber (BEL, KTM), 450 p.; 7. Jorge Prado Garcia (ESP, KTM), 392 p.; 8. Brian Bogers (NED, KTM), 356 p.; 9. Hunter Lawrence (AUS, SUZ), 326 p.; 10. Brent Van doninck (BEL, YAM), 298 p.
2016 MXGP of The Netherlands MX2 Top 3
Jeffrey Herlings
Brian Bogers
Jorge Prado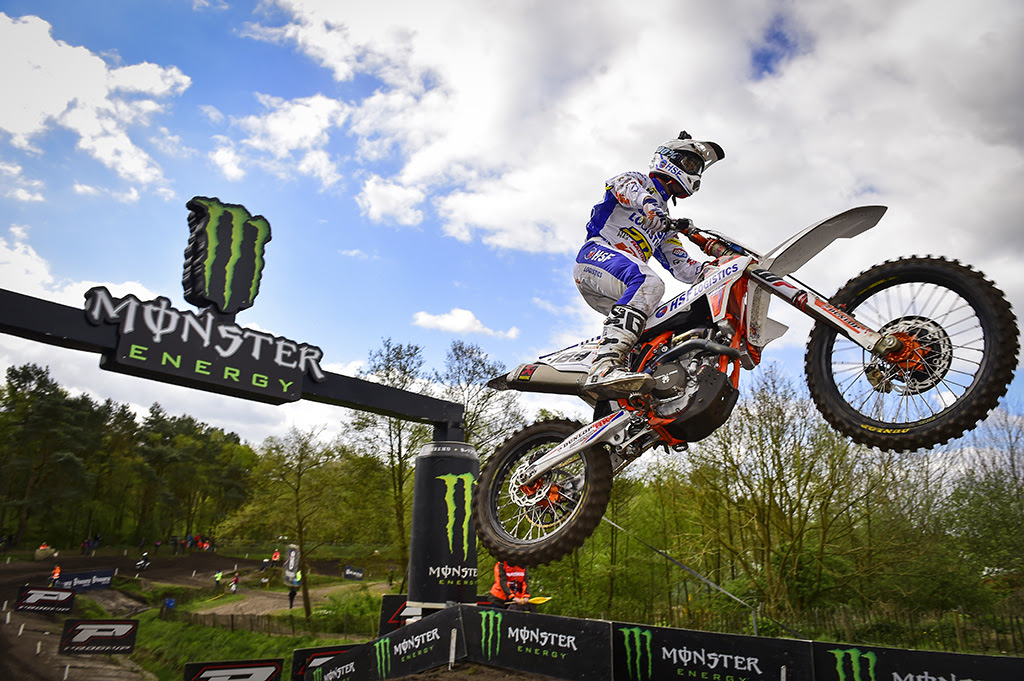 All the photos of the MXGP of The Netherlands will be available here
TIMETABLE
Saturday: VMX Free/Timed Practice 08:30; WMX Free/Timed Practice 09:15; EMX150 Free/Timed Practice 10:00; MX2 Free Practice 11:30; MXGP Free Practice 12:00; VMX Race 1 12:55; WMX Race 1 13:40; MX2 Time Practice 14:15; MXGP Time Practice 14:45; MX2 Qualifying Race 16:25; MXGP Qualifying Race 17:10; EMX150 Race 1 17:55.
Sunday: VMX Race 2 08:45; WMX Race 2 09:45; MX2 Warm up 10:25, MXGP Warm up 10:45; EMX150 Race 2 11:30; MX2 Race 1 13:15; MXGP Race 1 14:15; MX2 Race 2 16:10; MXGP Race 2 17:10