MXGP is ready for the 17th round of the FIM Motocross World Championship as it crosses the Atlantic in a visit to the United States and the sunshine state of Florida. The Monster Energy MXGP of USA will take place this weekend, 2nd and 3rd September at the WW Motocross Park in Jacksonville, Florida for the first time ever.
The circuit known as the best in Florida is ready and excited to host its first world class event. The 1,675 meter track was built by Dream Traxx on 149 acres and opened November 2013. While Florida has a long motocross history, WW Motocross park is ready to make its own this weekend.
Red Bull KTM Factory Racing's Antonio Cairoli has claimed 8 World Championships in career and his 9th is reachable this weekend. Cairoli has a 101 point advantage on MXGP rookie and Red Bull KTM Factory Racing teammate Jeffrey Herlings.
All that is need from Cairoli this weekend is to place better than Herlings in the overall standings and he will secure his 9th title. Herlings does however come off a triumphant first American motocross appearance in the MXGP off weekend and he won the MX2 at the 2016 Monster Energy MXGP of USA. The pair will be joined by not only their weekly advisories but also the newly crowned American Motocross Champion, Monster Energy Kawasaki Racing Team's Eli Tomac, who is also the winner of the last Monster Energy MXGP of USA at Glen Helen in 2016 and the Monster Energy MXGP of Americas.
Tomac's European counterpart Monster Energy Kawasaki Racing Team's Clement Desalle is 4rd in the MXGP championship. Statistically either Desalle or 3rd place holder Rockstar Energy Husqvarna Factory Racing's Gautier Paulin could still win the title but the odds are against then as they essentially would need Herlings and Cairoli to have multiple scoreless races. Nevertheless both are always hard charger and potential overall winners.
Team HRC's Tim Gajser may be out the championship chase but the 2016 champ is looking to take the momentum of his last overall win in Sweden with him into the US. Now 178 points off the lead Gajser is simply searching for race wins and a strong finish to the season.
While the American rider Monster Energy Yamalube Chaparall Factory Yamaha's Cooper Webb's last world championship race was in MX2 at the Monster Energy MXGP of Americas where he took the overall, Monster Energy Yamaha Factory MXGP's Romain Febvre, the 2015 MXGP Champion, has had a challenging season but made a return to the podium at the MXGP of Sweden, his first in 2017. Febvre who won the MXGP of USA in 2015 is striving to stand on the box once again.
MXGP Championship Top Ten: 1. Antonio Cairoli (ITA, KTM), 631 points; 2. Jeffrey Herlings (NED, KTM), 530 p.; 3. Gautier Paulin (FRA, HUS), 526 p.; 4. Clement Desalle (BEL, KAW), 519 p.; 5. Tim Gajser (SLO, HON), 453 p.; 6. Romain Febvre (FRA, YAM), 441 p.; 7. Jeremy Van Horebeek (BEL, YAM), 377 p.; 8. Maximilian Nagl (GER, HUS), 364 p.; 9. Glenn Coldenhoff (NED, KTM), 352 p.; 10. Evgeny Bobryshev (RUS, HON), 344 p.
2016 Monster Energy MXGP of USA MXGP Top 3
Eli Tomac
Antonio Cairoli
Tim Gajser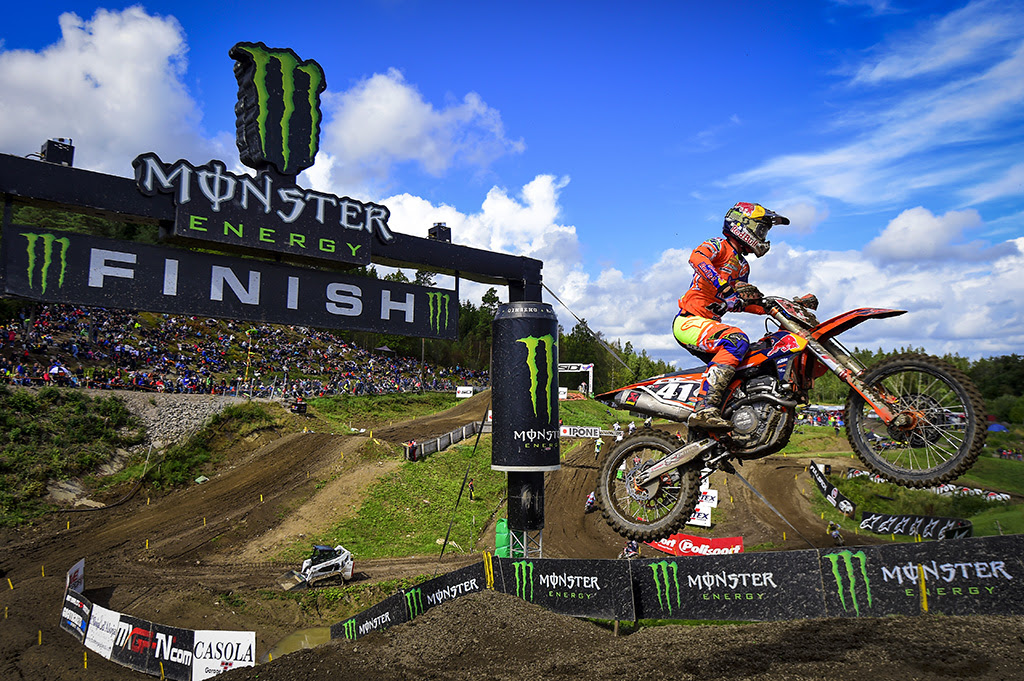 In MX2 points leader Red Bull KTM Factory Racing's Pauls Jonass is still fighting Team Suzuki World MX2's Jeremy Seewer for the title. Seewer won the last stop 2 weeks ago in Sweden but will need some luck to recover from his points deficit if he wants to claim the MX2 World Championship.
American MX2 riders Monster Energy DRT Kawasaki's Darian Sanayei and Rockstar Energy Husqvarna Factory Racing's Thomas Covington will be ones to keep an eye on at was it the only home GP this season. Both Sanayei and Covington were impressive at the last MXGP in Sweden. The pair of world championship riders will be joined by fellow American motocross racers from the Monster Energy Kawasaki Pro Circuit Racing team Justin Hill, Adam Cianciarulo, and Joey Savatgy.
Frenchman and Kemea Yamaha Official MX Team's Benoit Paturel holds down third in the Championship and is not one to underestimate, especially if he can get solid starts. It is also important to not forget that this is the first of his final few races in MX2.
Rockstar Energy Husqvarna Factory Racing's Thomas Kjer Olsen continues his strong rookie season sitting fourth in the championship only 7 points back of Paturel. Olsen hasn't seen the same success as earlier in the season lately but perhaps this trip across the Atlantic may inspire another top result.
The final rider to mention is LRT KTM's Julien Lieber, the Belgian has struggled the last rounds with crashes but was running well before each. Signed to the Monster Energy Kawasaki MXGP team for 2018 his future is bright but right now he remains focused on the task at hand, this weekend Monster Energy MXGP of USA.
MX2 Championship Top Ten: 1. Pauls Jonass (LAT, KTM), 669 points; 2. Jeremy Seewer (SUI, SUZ), 624 p.; 3. Benoit Paturel (FRA, YAM), 504 p.; 4. Thomas Kjer Olsen (DEN, HUS), 497 p.; 5. Julien Lieber (BEL, KTM), 436 p.; 6. Thomas Covington (USA, HUS), 417 p.; 7. Jorge Prado Garcia (ESP, KTM), 392 p.; 8. Brian Bogers (NED, KTM), 331 p.; 9. Hunter Lawrence (AUS, SUZ), 284 p.; 10. Brent Van doninck (BEL, YAM), 273 p.
2016 Monster Energy MXGP of USA MX2 Top 3
Jeffrey Herlings
Jeremy Martin
Mitchell Harrison
TIMETABLE
Saturday: MX2 Free Practice 10:45; MXGP Free Practice 11:15; MX2 Time Practice 13:30; MXGP Time Practice 14:00; MX2 Qualifying Race 15:25; MXGP Qualifying Race 16:10.
Sunday: MX2 Warm up 10:25, MXGP Warm up 10:45; MX2 Race 1 12:15; MXGP Race 1 13:15; MX2 Race 2 15:10; MXGP Race 2 16:10