The 2017 MXGP Calendar has reached the furthest parts of the globe and this weekend it is only fitting that the last round of the championship be held in the enthusiastic motocross hub of France. The 19th round of 19 will take place at the beautiful Villars sous Ecot circuit for the MXGP of Pays de Montbéliard.
The tricky hard pack surface will be sure to catch a few riders of guard but as in the last visit in 2015 it will provided amazing racing. While Red Bull KTM Factory Racing's Antonio Cairoli is the 2017 champion, he will still want to battle especially against the fit teammate Jeffrey Herlings who has won the last two rounds in a row. While in MX2 the title chase is still very much alive between Red Bull KTM Factory Racing's Pauls Jonass and Team Suzuki World MX2's Jeremy Seewer who has a 41 point deficit but anything is possible in motocross racing.
Both the final rounds Women's Motocross World Championship and the European Motocross 250 Championship join MXGP and MX2 for the French Finale. The Women's class is in an intense four way race for the title with only 5 points between Nancy Van de Ven, Kiara Fontanesi, Courtney Duncan, and France's Livia Lancelot who has decided to end her impressive professional career this weekend at home.
While in the EMX250 Championship Morgan Lesiardo and Simone Furlotti will be battle over the title as they are separated by 26 points.
Red Bull KTM Factory Racing's Antonio Cairoli was crowned MXGP World Champion, for the 9th time in his career, last weekend in Assen. The veteran of the sport will have a pressure free weekend of racing but both himself and Red Bull KTM Factory Racing's Jeffrey Herlings will undoubtedly fight for the win and the pride that comes along with it.
Herlings has secured second 2nd in the championship with his win last weekend in Assen and is keen to finish his season on a high note with another victory. Cairoli finished third here in 2015 while Herlings won the MX2 class overall.
For both Rockstar Energy Husqvarna Factory Racing's Gautier Paulin and Monster Energy Yamaha Factory MXGP's Romain Febvre this weekend will be a home GP. Febvre won this GP in his 2015 championship season while Paulin has struggled in the past with 12th in 2015 and 23rd in 2009. Paulin currently is third in the points standing just ahead of Monster Energy Kawasaki Racing Team's Clement Desalle.
Unfortunately for Desalle a crash last week in Assen ended his season. In result of Desalle missing the final round Paulin is guaranteed to maintain his third position in the 2017 record books.
Team HRC's Tim Gajser has a top 5 spot in the championship currently but he is recovering from a crash and heavy hit in Assen. Gajser is expected to line up this weekend but may struggle to maintain his position in the points as Febvre is only 6 points behind. Gajser's last visit to the circuit in 2015 was a successful one though as he finished 2nd in the MX2 overall.
Frenchman and Monster Energy Kawasaki Racing Team's Jordi Tixier will be absent from yet another race this season as he sits out the home round, which he finished on the podium at in 2015, to recover from injuries suffered prior this year.
HRC's Evgeny Bobryshev comes into the last race of the season after struggling in Assen, the Russian however has done well in the past at the Villars circuit when he scored 2nd overall in 2015.
MXGP Championship Top Ten: 1. Antonio Cairoli (ITA, KTM), 710 points; 2. Jeffrey Herlings (NED, KTM), 627 p.; 3. Gautier Paulin (FRA, HUS), 571 p.; 4. Clement Desalle (BEL, KAW), 544 p.; 5. Tim Gajser (SLO, HON), 485 p.; 6. Romain Febvre (FRA, YAM), 479 p.; 7. Maximilian Nagl (GER, HUS), 423 p.; 8. Jeremy Van Horebeek (BEL, YAM), 416 p.; 9. Glenn Coldenhoff (NED, KTM), 398 p.; 10. Max Anstie (GBR, HUS), 396 p.
2015 MXGP of France, Villars sous Ecot MXGP Top 3
Romain Febvre
Evgeny Bobryshev
Antonio Cairoli
In MX2 the Red Bull KTM Factory Racing rider, Pauls Jonass, had the chance to take the title last weekend in Assen but he was unable to do so thanks to Team Suzuki World MX2's Jeremy Seewer. Seewer still has his title hopes alive but with only a slim chance it looks as if Jonass will take the top spot. Jonass finished 4th in the 2015 overall while Seewer took 8th.
The two rookies to watch are Rockstar Energy Husqvarna Factory Racing's  Thomas Kjer Olsen who is third the MX2 championship and Jonass' teammate Red Bull KTM Factory Racing's Jorge Prado Garciaafter taking his third overall victory of 2017 last week. Since they are both rookies they have no previous result to go off at the circuit and will be looking to make a good first impression.
The fourth rider in the top 5 of MX2 Championship is Kemea Yamaha Official MX Team's Benoit Paturel. Sadly for Paturel a training crash at this circuit weeks ago caused a season ending injury. The French MX2 rider finished 14th in 2015.
The American Rockstar Energy Husqvarna Factory Racing rider, Thomas Covington, has had a strong last few races to put himself into the top 5 of the points. Covington grew up on tracks with hard soil so his riding style may mesh well with the Villars sous Ecot circuit.
LRT KTM's Julien Lieber is another rider to watch as he is now just 10 points outside the top five and he has shown great speed but mistakes have held him back in the results. Lieber raced the circuit in 2015 and finished 13th.
MX2 Championship Top Ten: 1. Pauls Jonass (LAT, KTM), 735 points; 2. Jeremy Seewer (SUI, SUZ), 694 p.; 3. Thomas Kjer Olsen (DEN, HUS), 556 p.; 4. Benoit Paturel (FRA, YAM), 504 p.; 5. Thomas Covington (USA, HUS), 485 p.; 6. Julien Lieber (BEL, KTM), 475 p.; 7. Jorge Prado Garcia (ESP, KTM), 439 p.; 8. Brian Bogers (NED, KTM), 386 p.; 9. Hunter Lawrence (AUS, SUZ), 352 p.; 10. Brent Van doninck (BEL, YAM), 309 p.
2015 MXGP of France, Villars sous Ecot MX2 Top 3
Jeffrey Herlings
Tim Gajser
Jordi Tixier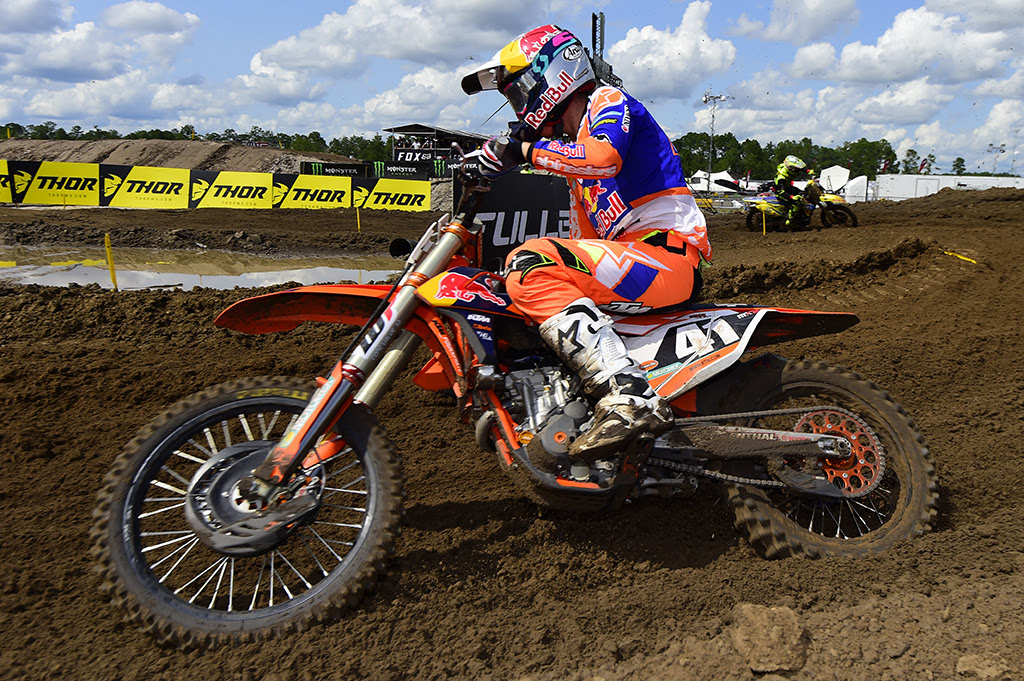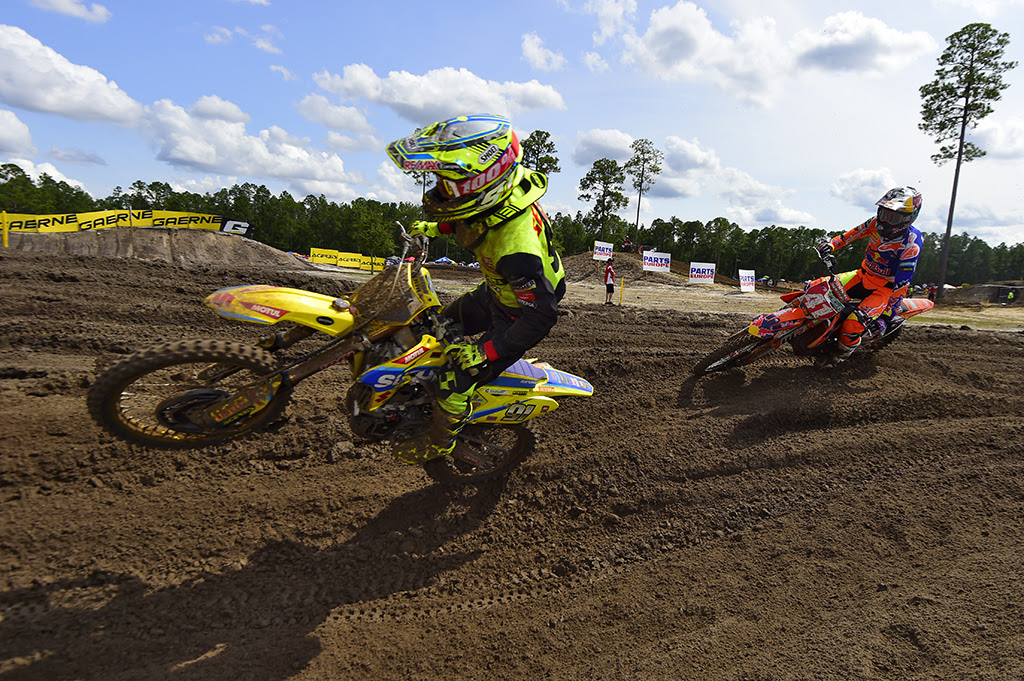 TIMETABLE
Saturday: EMX250 Group 1 Free/Timed Practice 08:30; EMX250 Group 2 Free/Timed Practice 09:15; WMX Free/Timed Practice 10:00; MX2 Free Practice 11:30; MXGP Free Practice 12:00; EMX250 Last Chance 13:40; WMX Race 1 13:40; MX2 Time Practice 14:15; MXGP Time Practice 14:45; WMX Race 1 15:25; MX2 Qualifying Race 16:25; MXGP Qualifying Race 17:10; EMX250 Race 1 17:55.
Sunday: WMX Race 2 09:45; MX2 Warm up 10:25, MXGP Warm up 10:45; EMX250 Race 2 11:30; MX2 Race 1 13:15; MXGP Race 1 14:15; MX2 Race 2 16:10; MXGP Race 2 17:10