From sun to rain and back the MXGP of Sweden kicked off today with Qualifying at the long time GP circuit of Uddevalla. Returning after a year away the rumble of MXGP and MX2 brought the circuit and Swedish fans to life as Red Bull KTM Factory Racing's Jeffrey Herlings and Pauls Jonass took the first victories of the weekend.
In addition to MXGP and MX2 Saturday's racing included the first day of EMX125 Presented by FMF Racingwhere BUD Racing Monster Energy's Brian Strubhart Moreau won the race and claim the 2017 championship. Moreau came into the weekend with the championship lead and the deciding moment came when his nearest competitor, Gianluca Facchetti crashed out of the race on the start.
When the MXGP Qualifying Race's gate dropped the winner of the last MXGP race to be held in Uddevalla, Monster Energy Yamaha Factory MXGP's Romain Febvre, took the lead.
Febvre was followed closely by Team HRC MXGP's Tim Gajser but later managed to pull a slight gap on the #243. Behind the top two off the start was Rockstar Energy Husqvarna Factory Racing's Max Nagl and Red Bull KTM Factory Racing's Jeffrey Herlings.
Herlings found his way around Nagl on the first lap putting the German between him and points leader Red Bull KTM Factory Racing's Antonio Cairoli. Herlings then pushed forward to catch Gajser and apply pressure on the Slovenian.
Gajser managed to handle the pressure well however even when Herlings showed him the front wheel multiple times. Herlings was searching side to side looking for a way past and for a few laps backed off the pace.
Herlings after following the lines of Gajser regroup and mounted a second attack and this one was successful. After his pass on Gajser, Herlings set his sights on Febvre and with 2 laps remaining he took the lead. Febvre tried to retaliate but it wouldn't be enough as Herlings won ahead of Febvre, Gajser, Nagl, and Cairoli.
Herlings in the press conference said, "I'm feeling good, we were fast in each practice and I felt really comfortable today, the bike has been really well including the last few rounds. It was a bit hard to pass Gajser, he was riding really good and had some really good lines, he was tough to overtake but once we passed him I was able to close the gap to Febvre and pass him straight when I got near his rear wheel and managed to win."
MXGP Qualifying Race Top Ten: 1. Jeffrey Herlings (NED, KTM), 24:01.339; 2. Romain Febvre (FRA, Yamaha), +0:00.709; 3. Tim Gajser (SLO, Honda), +0:07.522; 4. Maximilian Nagl (GER, Husqvarna), +0:09.369; 5. Antonio Cairoli (ITA, KTM), +0:10.762; 6. Gautier Paulin (FRA, Husqvarna), +0:22.883; 7. Clement Desalle (BEL, Kawasaki), +0:26.080; 8. Evgeny Bobryshev (RUS, Honda), +0:27.920; 9. Shaun Simpson (GBR, Yamaha), +0:35.901; 10. Tommy Searle (GBR, Kawasaki), +0:36.797;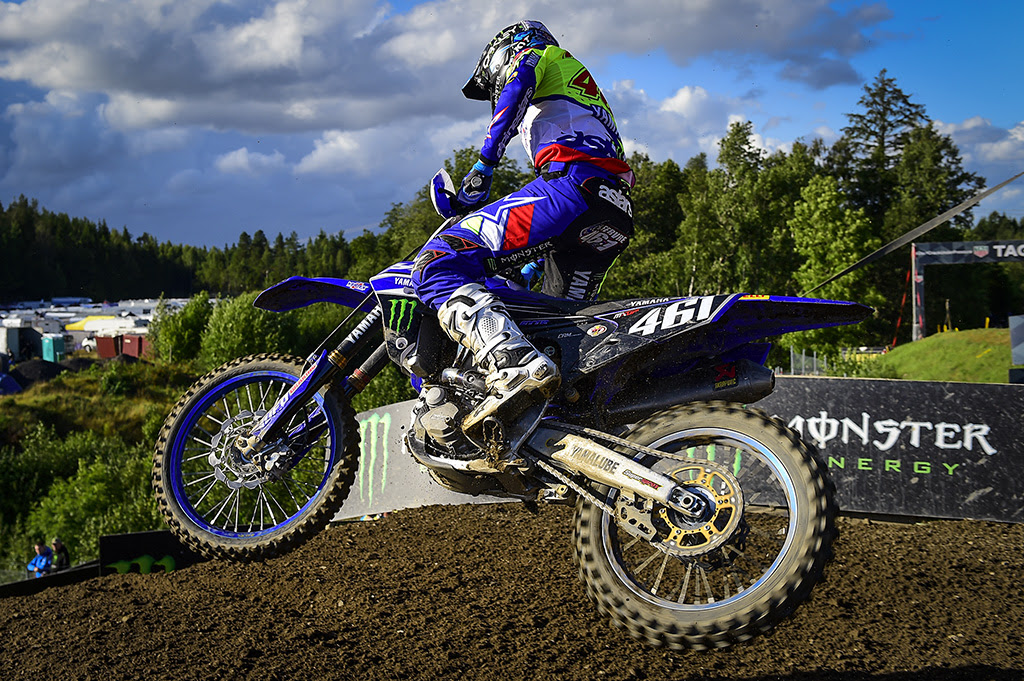 When the MX2 bikes shot out of the gates it was again the Red Bull KTM Factory Racing's pair of Jorge Prado Garcia and Pauls Jonass leading the way.
Behind the KTMs it was the Americans, Rockstar Energy Factory Racing's Thomas Covington and Monster Energy DRT Kawasaki rider Darian Sanayei. For Covington the top five position was lost quickly as he crashed on the first lap.
The same bad luck struck the #61 of Prado on the second lap when he fell just ahead of his teammate Jonass. Jonass was lucky to miss Prado but somehow managed to do so and from there took the lead.
The TM Racing Factory Team and Swedish Rider Anton Gole came out swinging and ran 4th on the first official lap before dropping spots to Kemea Yamaha Official MX Team's Benoit Paturel and Suzuki World MX2's Jeremy Seewer.
After passing Gole, last GP's overall winner, Paturel started an attempt to charge to the front. After running in 4th for 6 laps the #6 and Rockstar Energy Factory Racing's Conrad Mewse where both passed by a surging Seewer and only one lap later Paturel found his way around Mewse.
With Jonass out of reach Seewer changed his focus to passing Sanayei and he did so on the final lap with only two turns remaining. Jonass won the race with Seewer, Sanayei, Paturel, and Mewse finishing out the top five.
Jonass in the press conference said: "I got a pretty start straight away I was second behind my teammate and the first few laps we were riding pretty close…but then he made a mistake and I was lucky not to crash with him. I didn't ride my best race but still managed to win. It is a good confidence boost to win the qualifying race and I'm really looking forward to tomorrow."
Meanwhile Gole finished 12th and fellow Swedish rider, Kemea Yamaha Official MX Teams Alvin Ostlund finished 16th. Ostlund after the race said: "It is really nice to be home, there is a lot of fans cheering for you and it gives you a little bit extra motivation. I think to be home with the fans can help and my goal is to finish in the top ten tomorrow."
MX2 Qualifying Race Top Ten: 1. Pauls Jonass (LAT, KTM), 24:37.104; 2. Jeremy Seewer (SUI, Suzuki), +0:01.980; 3. Darian Sanayei (USA, Kawasaki), +0:02.669; 4. Benoit Paturel (FRA, Yamaha), +0:11.000; 5. Conrad Mewse (GBR, Husqvarna), +0:27.187; 6. Thomas Kjer Olsen (DEN, Husqvarna), +0:29.218; 7. Julien Lieber (BEL, KTM), +0:33.068; 8. Jorge Prado Garcia (ESP, KTM), +0:33.571; 9. Hunter Lawrence (AUS, Suzuki), +0:34.721; 10. Davy Pootjes (NED, KTM), +0:39.902